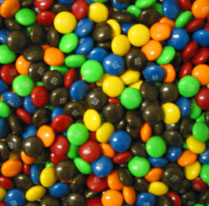 Do swirling M&M's really make you want to eat them? Is a kaleidoscope of colourful chocolate what you think of when you hear Iron & Wine? Are Ben and Justin really pleased to have the song they wrote together turned into a commercial for candy coated shells?
I am sure I am not the only person to be turned onto Iron & Wine via the Garden State soundtrack. Seam Beam's treatment of The Postal Service's "Such Great Heights" is the kind of song that ended up on every mix I made for everyone in the last few years. So it is no surprise it was co-oped in a commercial.
Try this link to view the ad.
Listen ~
Such Great Heights
Music = 5/5 (a perfect song?)
Effectiveness = 2/5 (doesn't make me want M&Ms, just want to listen to more of Sam's tunes)
Overall = 4/5 (because I would watch it just for the music)
Buy Iron & Wine
or
Buy M&Ms